Martin Flodén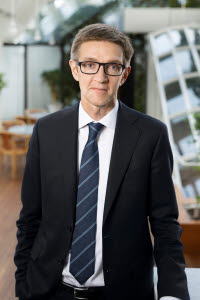 Deputy Governor
Martin Flodén took up the post of Deputy Governor of the Riksbank on 22 May 2013 with a term of office of five years. Flodén´s term of office has been extended with six years until 21 May 2024.
Martin Flodén is professor of economics at Stockholm University. Mr Flodén has previously been a member of the Economic Council of Sweden, the Swedish Fiscal Policy Council and the Swedish Centre for Business and Policy Studies' Economic Policy Group.
Press photo of Martin Flodén can be found on the page Photos of members of the Executive Board.
International assignments
OECD's Working Party 3 (WP3)
the Basel Committee on Banking Supervision (BCBS)
the Financial Stability Board's (FSB) Regional Consultative Group for Europe (RCG-E)
the Bellagio Group
CV
Download the CV of Martin Flodén
Speech
Visit Speeches and presentations to show all speeches of Martin Flodén.