Invalid 5-krona coin
All 5 krona coins minted in 1954 or later were all legal tender up until 30 June 2017. These coins are now invalid.
These coins are now invalid:
5-krona coin, minted from 1976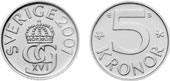 Obverse
King Carl XVI Gustaf's crowned monogram.
Legend: "Sverige" (Sweden) and year of minting.
Reverse
The figure "5" with a bow on each side.
Legend: "kronor".
Facts
Colour: Silver.
Metal content: Plated material in three layers. The core is nickel and the outer layer is an alloy of copper and nickel.
Weight: 9.50 grammes
Diameter: 28.50 millimetres
Thickness: 2.00 millimetres
Edge: Smooth
Thanks for your feedback!