The flows of cash
The Riksbank does not govern how much cash is in circulation in society; this is instead determined by demand from the general public. In 2018, the average value of banknotes and coins in circulation was SEK 58 billion. The flows of cash in society are described here, from production, through circulation among the general public, to destruction.
The Riksbank issues cash to banks and bank-owned companies through our cash handling office in Märsta, north of Stockholm. During spring 2021, a cash handling office will be opened in Jönköping and during 2022 one will be opened in Falun. The new offices can be used to distribute banknotes if it is not possible to use the cash handling office in Märsta for some reason.
Acting together, the five largest banks have formed Bankomat AB to provide cash to society. When cash is needed by society, Bankomat collects it from the Riksbank. At present (August 2019), Bankomat has 5 cash depots in operation. The cash is then transferred from Bankomat to the banks and the retail trade by means of cash-in-transit services. ATMs, bank accounts and the retail trade provide the public with access to cash.
When the cash becomes worn out, it is returned (via the banks, the retail trade and cash-in-transit services) to Bankomat, which then returns it to the Riksbank for destruction.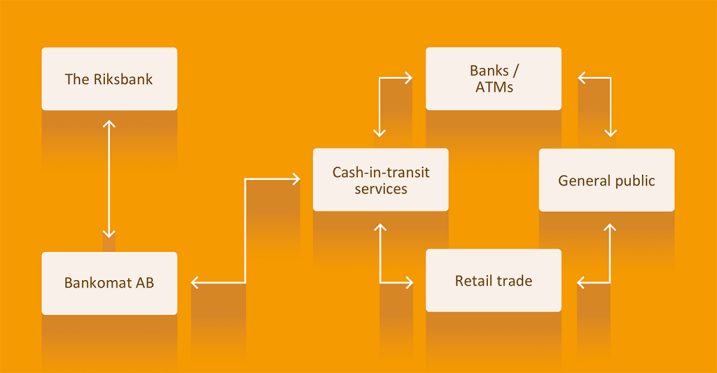 The Riksbank formed the Cash Handling Advisory Board in 2006. The Cash Handling Advisory Board is a forum for the discussion of issues in the field of cash handling in society. 
Thanks for your feedback!