Invalid 1 000-krona banknotes
Invalid after 31 December 2013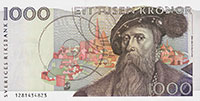 1,000-krona banknote printed 1989-1991

| Banknote | Information |
| --- | --- |
| Size | 82x160 millimetres |
| Watermark | Portrait of Gustav Vasa. |
| Face | Portrait of Gustav Vasa. |
| Reverse | A harvest picture from Olaus Magnus' Description of the Northern Peoples from 1555. |
Invalid after 31 December 1998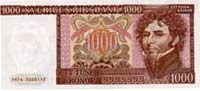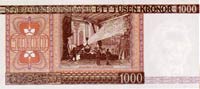 1,000-kronor banknote printed 1976-1988

| Banknote | Information |
| --- | --- |
| Size | 180x82 millimetres |
| Watermark | Portrait of Jöns Jacob Berzelius. Vertical security thread. |
| Face | Dominated by an engraving, in brown, of Karl XIV Johan. |
| Reverse | Scene illustrating the Bessemer steel furnace. |
Invalid after 31 December 1987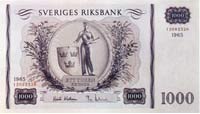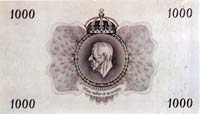 1,000-krona banknote printed 1952-1973

| Banknote | Information |
| --- | --- |
| Size | 210x121 millimetres |
| Watermark | Portrait of Gustav V in profile. |
| Face | Engraving of "Mother Svea", standing on a pedestal and holding the national coat-of-arms. |
| Reverse | Portrait of Gustav V in profile. |
Banknotes prior to 1971 contain red and blue fibres in the right part of the reverse side. Banknotes printed in 1971 and later contain a vertical security thread, to the right of the "Mother Svea" engraving, instead of the red and blue fibres.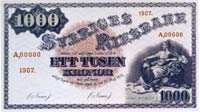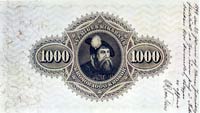 1,000-krona banknote printed 1894-1950

| Banknote | Information |
| --- | --- |
| Size | 210x121 millimetres |
| Watermark | Head of Mercury in a cartouche in lower left corner, horizontal wave-lines elsewhere. |
| Face | Engraving of "Mother Svea", seated, on the right side. |
| Reverse | Portrait of Gustav I. Blue fibres inserted on the left side. |
1,000- kronor banknotes of the 1890 type that were issued prior to October 28, 1909 have blue-toned paper instead of pink. These banknotes have red fibres instead of blue on the reverse side.
Thanks for your feedback!
Your comment could not be sent, please try again later