1759 - Counterfeiters sentenced to death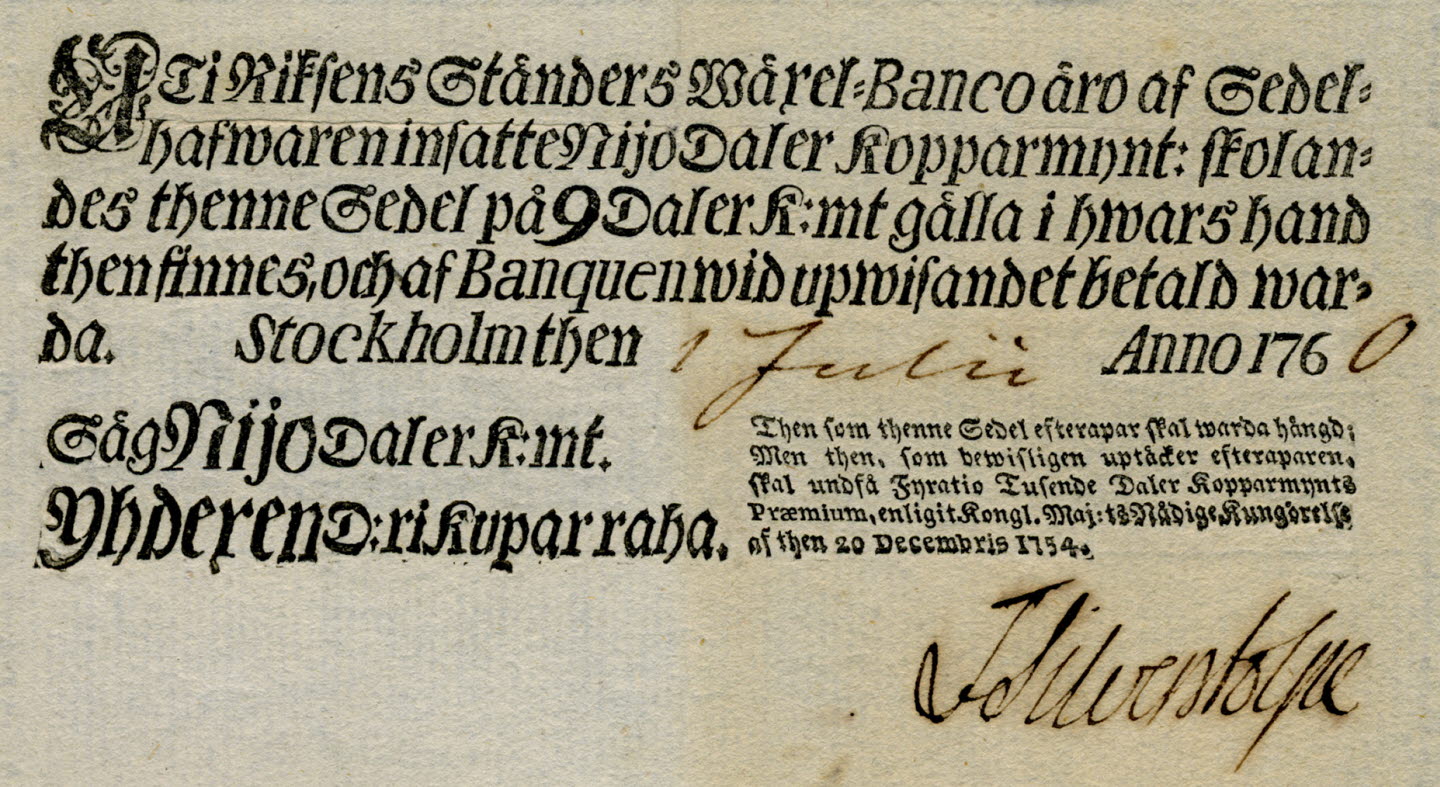 Susanna and Ingeborg, two female banknote counterfeiters, were sentenced to death for counterfeiting and passing banknotes.
During the 1700s, there were many counterfeit banknotes in circulation. Despite rewards of 40,000 riksdaler in copper coins for anybody reporting a counterfeiter, more severe punishments and a warning text on banknotes saying "Anyone who counterfeits this note shall be hanged...", banknotes are frequently counterfeited.
According to transcriptions of judgements from the Svea Court of Appeal, preserved in the Riksbank's archives, the court called for the death penalty for Susanna Ekström and Ingeborg Jönsdotter. But they were reprieved by the king. Instead, as punishment "both for this fraud against the bank and for the counterfeit coinage they made", they were to lose honour, stand two hours in the town square of Varberg in iron collars and be birched. After this, many years of "public work" awaited.
Over the years, central banks have developed increasing amounts of more up-to-date ways to hinder banknote counterfeiting. The new Swedish banknotes, with the denominations 1000, 500, 200, 100, 50 and 20 kronor, introduced in 2015–2016, have many modern security features. One example is the security strip with three windows found to the left of the portrait. The banknotes feature images that move and alternate motif between "KR" and a royal crown when you tilt the banknote (1000, 500, 200 and 100-krona banknotes only). All denominations have a colour-shifting image linked to the person portrayed on the banknote, located to the right of the portrait. The denomination can also be seen here. When the banknote is tilted, the image and the figure gradually shift between gold and green.