1929 - Stock market crash on Wall Street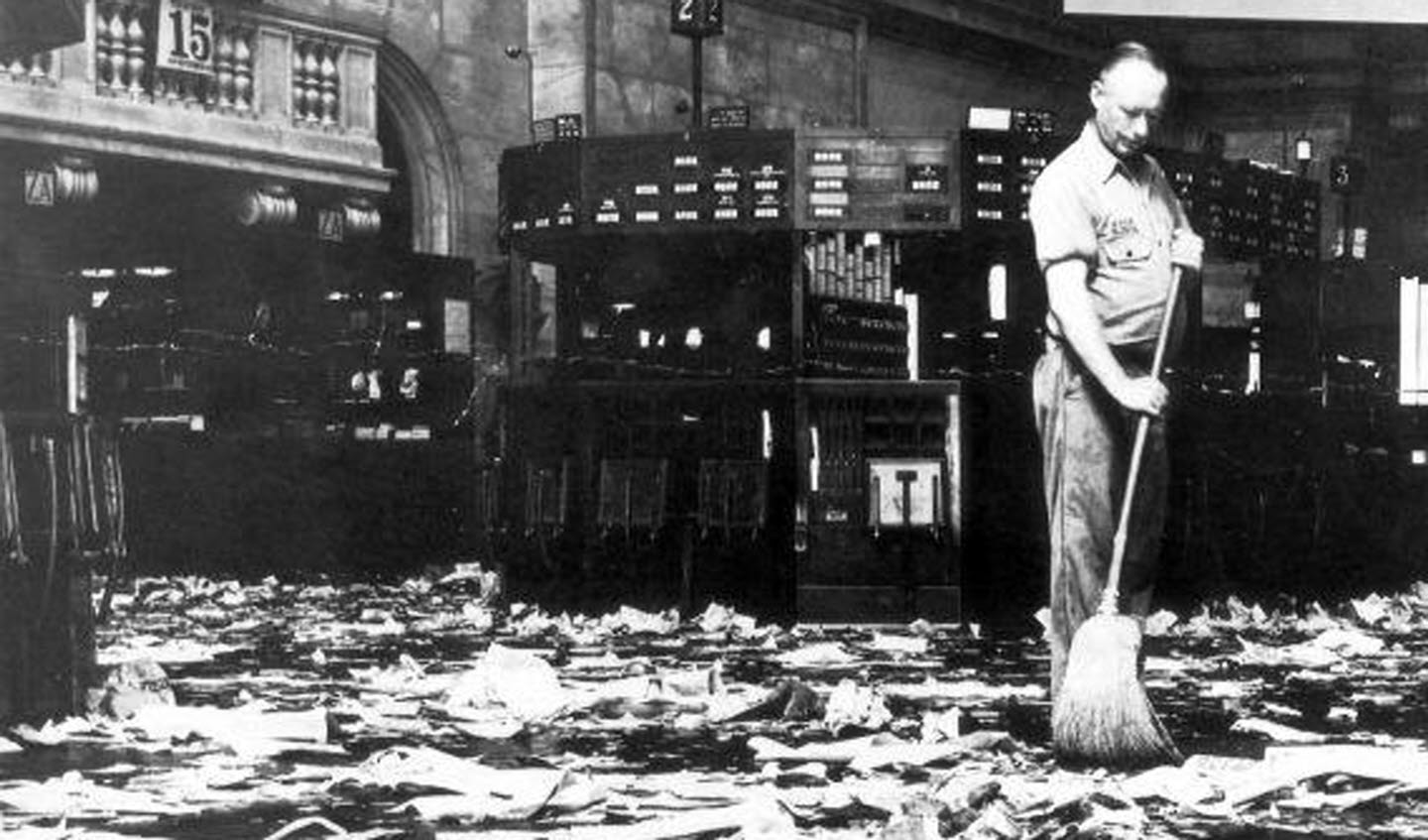 On 24 October 1929, the stock exchange on Wall Street in New York crashed. This event marked the end of the Roaring Twenties and was the start of a worldwide depression. The Riksbank was led by Ivar Rooth.
The stock market crash on Wall Street triggered a financial crisis, which eventually shook banks in Austria and Germany and led to a global depression. The crisis resulted in the United Kingdom, whose currency was still central to global trade, leaving the gold standard in the autumn of 1931, with Sweden and many other countries following suit. The question was how Sweden should steer its monetary policy when the value of its money was no longer determined by the value of gold. The value of money was in focus and, above all, there were concerns over a general fall in prices or deflation. Consequently, the Riksbank became the first central bank in the world to have domestic price stability as a monetary policy target. This means that both inflation and deflation would be combated.
In the same year as the crash, Ivar Rooth (1888–1972) took over as Governor of the Riksbank. He was born in Stockholm, took a Master of Laws at Uppsala University and, before arriving at the Riksbank, worked at Svenska Handelsbanken and as chairman of Stockholm's taxation board.
Rooth had to manage an economy marked by the Kreuger Crash of 1932 and the Second World War.
Just before the outbreak of the Second World War in 1939, the Riksbank pegged the Swedish krona to the US dollar instead of the pound sterling, which it had been pegged to since 1933. This was because it feared that sterling would be impacted by the impending war.
During the war, the Riksbank was involved in Sweden's trade policy, among other things when the Riksbank, with the government as guarantor, issued a credit of SEK 100 million to the Soviet Union. The bank also concluded agreements on credits for Norway and Denmark.
As in many other countries after the Second World War, interest rate discussions between Rooth and the Government resulted in disagreement. While Rooth wanted rate rises and a tightening of Sweden's monetary policy, the Government preferred very restrictive rate rises. The divided opinions over interest rates led to Rooth tendering his resignation as Governor of the Riksbank in the autumn of 1948.
After his tenure at the Riksbank, Rooth became Managing Director of the International Monetary Fund (IMF) in Washington DC, 1951–56. Rooth was also a member of the United Nations Pension Fund, 1951–1961, before retiring in 1962.