Corporate Services Department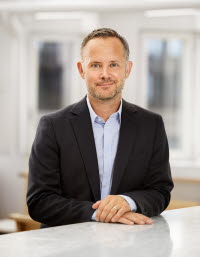 Henrik Jönsson (acting head)
The Corporate Services Department (AVS) is responsible for IT support, HR issues, accounting, public procurement, registry and archive, real estate, security and internal services.
Four of the department's divisions, the Architecture, IT security and CBDC development division, the Business applications division, the Methods and development division and the Vendor management and support division, are responsible for the Riksbank's IT support, that is the operation, maintenance, development and administration of all of the Riksbank's applications and IT systems, as well as the support and development of the PC environment.
The other divisions are responsible for many of the support functions in the Riksbank. The Accounts division is responsible for the annual accounts, budget and invoices. The HR division provides support with regard to developing competence, leadership and employeeship and working environment issues. The Procurement, registry and archive division provides support in public procurement procedures, registration and administration of general documents. It is also responsible for the Riksbank's archive.
The Premises and services division is responsible for the Riksbank's properties. This includes management and adaptation of premises (the Riksbank's own premises and rented premises). The division is also responsible for all forms of internal service.
The Security Division is responsible for security matters. This includes physical security, security regarding activities requiring protection and personal security (for instance, travel safety).
In other words the department has many different functions and activities, but the common objective is to ensure that the Bank is in a position to succeed with its main tasks.
Organisation
Henrik Jönsson is acting head of the department. Ulrika Pilestål is deputy head of the department and head of IT.
The department consists of nine divisions:
Accounting
Architecture, IT security and CBDC development
Business applications
HR
Methods and development
Premises and service
Procurement, registry and archive
Security
Vendor management and support.