Anna Breman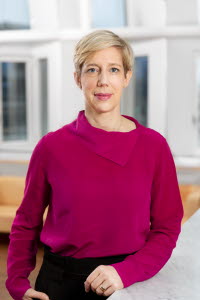 First Deputy Governor
Anna Breman took up the post of Deputy Governor of the Riksbank on 1 December 2019 with a term of office of six years.
Ms Breman was appointed First Deputy Governor of the Riksbank with effect from 2 September 2022, and until her period of office expires on 30 November 2025.
Anna holds a PhD in Economics and has previously been chief economist and global head of macro research at Swedbank. She has also worked at the Swedish Ministry of Finance, the World Bank and as a researcher in the United States.
Press photo of Anna Breman can be found on the page Photos of members of the Executive Board.
International assignments
ECB General Council (substitute for Erik Thedéen)
IMF cooperation in general, and between Sweden, the Netherlands, Belgium and Switzerland (G4 Deputies)
Nordic-Baltic Monetary and Financial Committee (NBMFC)
Nordic Deputy Governors' meetings
Network for Greening the Financial System (NGFS)
CV
Download the CV of Anna Breman
Speech
Visit Speeches and presentations to show all speeches of Anna Breman.