Some find it difficult to pay
Published: 7 November 2019
For some groups, primarily those who cannot or do not wish to use digital payment services, it can be difficult to pay in certain situations. The county administrative boards are tasked with ensuring that the possibility of withdrawing cash, paying bills and depositing daily takings corresponds to the needs of society. According to them, it is mainly elderly, new arrivals and people with certain disabilities that have poorer access to such fundamental payment services. It is important for these people to receive personal help, but it is becoming increasingly difficult for them to access it when more and more service points that have offered personal service are closing down. Furthermore, the geographical distance to bank branches, or other payment service mediators, is considerable in some parts of the country.
Certain companies in the tourism sector and associations can sometimes have difficulty receiving payments. Some foreign cards are not accepted by all payment terminals and the wireless technology for payments is not always reliable in rural areas. For example, associations report that they may have difficulty depositing their daily takings, which makes it more difficult for them to receive cash as payment. New technology, for example Swish, has facilitated the situation but the fees are seen as high.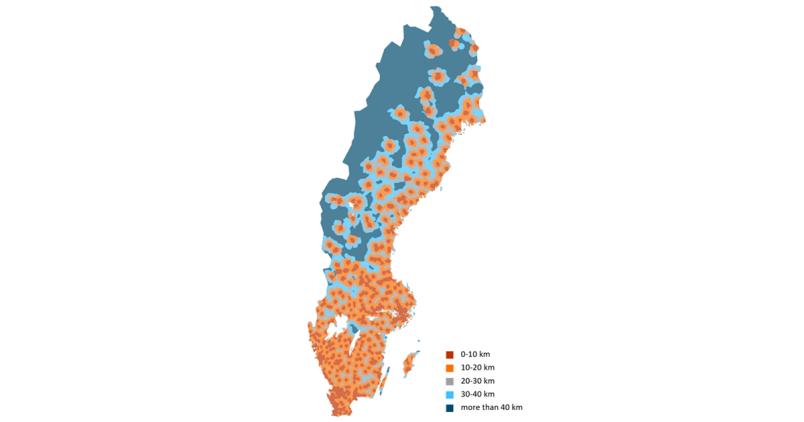 Distances to payment mediators can be considerable in northern Sweden. The figure shows that the distance to bank branches or other payment service providers is large in more sparsely populated areas north of Dalarna and Gävleborg. The distance to payment services is significantly shorter in southern Sweden. Source: Pipos, Swedish Agency for Economic and Regional Growth.